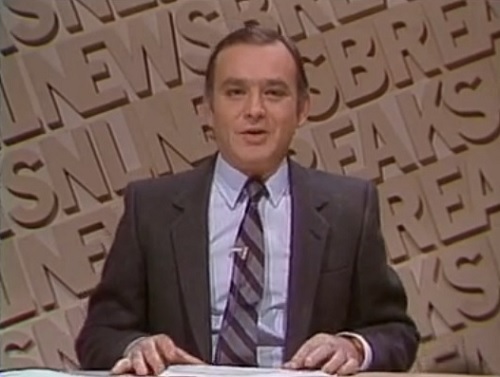 Brian Doyle-Murray As Saturday Night Live Newsbreaks Anchor
It was in the latter part of the magical summer of 1980. I was driving my taxi, and for the first time, I asked my opera singer girlfriend, Julia Madison, if she would like to go out with me for a few hours while I worked. Julia said she would love to go out driving with me. I never did this before because it was against regulations, and if I got caught, I would most likely lose my hack license.
We were driving around the Upper East Side of Manhattan in my taxi, and a man put his hand up to flag me down, so I stopped to pick him up. I didn't recognize him right away. I asked him where he wanted to go. He told me the Mudd Club at 77 White Street, in the Tribeca area (originally written as TriBeCa, it's a neighborhood in Lower Manhattan and is a syllabic abbreviation of Triangle Below Canal Street). The Mudd Club was the top punk rock, avant-garde nightclub in Manhattan, and there was always a large crowd looking to get past the doorman. I got to know the two doormen, Richard and Janeiro, and frequented the Mudd Club often.
My passenger was friendly and intrigued by my girlfriend Julia riding along as my copilot. So I told him this was the first time I drove with a copilot because it was illegal. We started to make small talk, and I said the Mudd Club is my favorite club to hang out at.
As the conversation progressed, I knew he was someone I had seen before. So, I asked him, who are you? He said I'm Brian Murray. I'm on the cast of Saturday Night Live and was the lead writer in the new film Caddyshack, in which I also played a supporting role. My Brother Bill is one of the film's stars.
I said it's nice to meet you, Brian. My name is Mark, and this is my girlfriend Julia, an opera singer and tonight my copilot. I told him I met your brother, Bill, coming out of The Nursery after-hours club at dawn about two months ago. He had two beautiful young women with him, one on each arm, and was happier than a man could be. He responded by saying, that sure sounds like my younger brother Bill.
He asked, do you party? I said sure, but not while I'm working. Then he asked if I had anything flat so he could break up some blow. I said yes and handed him back my clipboard (where I kept my trip sheet of all my fares). He broke out his stash, chopped it up, and snorted a few lines. We had some more small talk about him and Bill, and before you knew it, we were in front of the Mudd Club. He gave me a generous tip, and I told him to have a great night
After I dropped Brian off at the Mudd Club, Julia asked me, do you pick up many famous people? I said yes, it happens now and then, and it probably occurs more than I realize because some people I don't recognize.
It was not only I who was experiencing a magical summer in 1980. The summer of 1980 was also quite enchanting for the Murray brothers.

Brian Doyle-Murray – IMDb
https://www.imdb.com/name/nm0236519
Brian Doyle-Murray – Biography
"Doyle" is his grandmother's maiden name. He added it to his name to avoid confusion with Brian Murray.
https://www.imdb.com/name/nm0236519/bio

Bill Murray and Brian Doyle-Murray in Groundhog Day
Bill Murray Leaving The Nursery At Dawn
by Mark R. Elsis
http://MeetingsAndStories.com/Bill-Murray-by-Mark-R-Elsis
Mudd Club
by Mark R. Elsis
https://MeetingsAndStories.com/Mudd-Club-by-Mark-R-Elsis
Subscribe To The MeetingsAndStories.com Newsletter
https://MeetingsAndStories.com/Subscribe
Support My Book Meeting and Stories
https://MeetingsAndStories.com/Donate
Meetings and Stories
The Wondrous Journey of My Life
by Mark R. Elsis
https://MeetingsAndStories.com