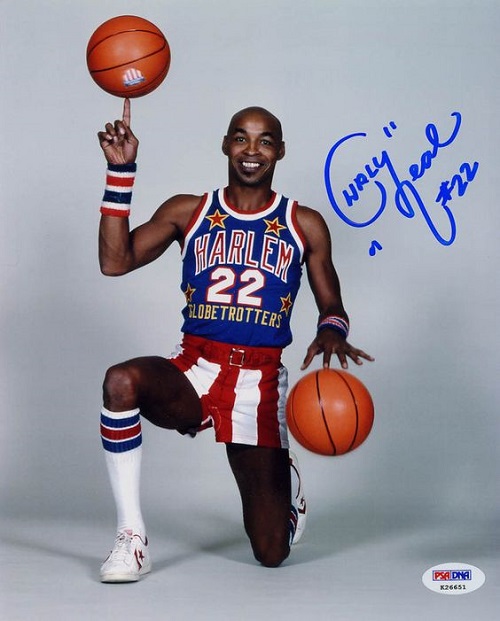 "We have lost one of the most genuine human beings the world has ever known. His basketball skill was unrivaled by most, and his warm heart and huge smile brought joy to families worldwide. He always made time for his many fans and inspired millions."
Jeff Munn, Harlem Globetrotters General Manager
It was February of 1970, and I had just turned twelve years old a month earlier. I lived and breathed basketball since before my first intramural game, which didn't happen when scheduled on November 9, 1965, because that was the evening of the Great Northeast Blackout.
I was a motivated and gifted athlete and one of the best basketball players for my age in New York City. Right around this same time, many High School scouts were watching me play and had just met and talked with the legendary Dan Buckley, head coach of varsity basketball, at the perennial basketball powerhouse, La Salle Academy.
A special thank you to the late Tom Konchalski, the renowned New York City basketball scout, for he was the one that set up a basketball game so Dan Buckley could see me play. Tom knew me from playing CYO basketball at Ascension School in Elmhurst, where he also lived, and was a familiar face at our first-rate basketball court. Also, thank you, Tom, for being there for me with encouragement, insight, and kind words when I was a young promising basketball player. Ascension was a source of many great basketball players from the mid-1960s through the early 1970s, of which I was one.
The two basketball players I tried my best to emulate were, defensively, Walt "Clyde" Frazier of the New York Knickerbockers, and offensively, the greatest collegiate player of all time, "Pistol" Pete Maravich, from LSU. Both these players became members of the 50 Greatest Players in NBA History.
Since it was the dead of winter, I was playing basketball indoors at the Lost Battalion Hall in Rego Park, Queens. I was by myself, late in the afternoon, working on just playing left-handed. I used to play predominantly right-handed, yet I was considerably ambidextrous both playing hockey left-handed and was a switch hitter when batting at baseball.
I understood through the insistence of my helpful coach at the time Mr. Kidell, that if I could become almost as good left-handed with dribbling and shooting, then the defense couldn't overplay me on my right side. I had been working hard on left-handed playing for some time, and it started becoming more natural.
I was diligently and repetitively practicing left-handed when I heard a voice from behind tell me, hey kid, you're great. I looked behind me, and to my utter astonishment, it was the greatest ball handler in the world, the superstar of the Harlem Globetrotters, Curly Neal. I said thank you. He then told me, I've been watching you, and you're right-handed, yet you're playing entirely with your left hand.
I said yes, I used to play almost exclusively right-handed, but a few months ago, my coach realized that I was ambidextrous and told me to start working diligently on developing my left-handed play. He said if you get proficient playing left-handed, whoever defends you would never be able to overplay you on the right side. That's why I was working on my left-handed play. I'm trying to become the best basketball player I can be. He immediately understood and told me I had an intelligent coach.
He then said with a big smile on his face, what's your name, and can I shoot around with you? I told him my name is Mark, and I'm a big fan of yours, so yes, please, shoot around with me. So we shot hoops and talked basketball for about fifteen minutes. During this time, he also taught me some maneuvers to handle and dribble the basketball more efficiently. Curly then asked if I wanted to play him in a pickup game, just him and I, one-on-one. Of course, I couldn't say yes quickly enough.
While we were playing, my Mother, who was to pick me up and drive us home, walked in without me at first noticing. She stood silently beside the court while Curly and I were playing one-on-one. When I finally did realize she was there watching us play, I ran up to her and excitedly told her this man I was playing basketball with was the great Curly Neal of the Harlem Globetrotters. She knew this meant the world to me and was so happy her face instantly lit up with radiant beauty, for her boy was living his dream.
When we finished playing our one-on-one game, I asked Curly, could you please shoot your famous half-court set shot for me?
He told me sure, took the shot, and swished it.
I asked him could you please do it again. He kidded around and told me, didn't you see it go swish?
He shot it for the second time, and it went swish again.
So, I asked him for the third time, please shoot it again. He told me that he had never made three in a row.
So for me, Curly shot his famous half-court set shot for the third time, and it went swish for the third time in a row.
It was magical for both me and for my Mom to witness. Here was this benevolent giving man playing basketball with her son while instilling in him how great of a basketball player he was and telling me I could become even better, and I did.
I became a much-improved basketball player in the half-hour that I played basketball with Curly Neal because the most talented man with a basketball told me I'm also a skilled and a great basketball player. The time, lessons, and particularly the praise he bestowed upon me unleashed inner confidence, which made me an even better player.
When we were saying our goodbyes, I remember my Mother shaking hands and wholeheartedly thanking Curly for being so gracious and taking the time to play basketball with me.
I told my basketball teammates that I played one-on-one basketball with Curly Neal, but no one believed me. I had to get my Mother to personally tell my teammates after practice before they finally relented and believed me.
Now, more than fifty years later, I want the world to know what this benevolent giving man with a huge loving smile did for that 12-year-old boy late one winter afternoon on a side court at the Lost Battalion Hall.
Frederick "Curly" Neal passed away on March 26, 2020. Thank you so much for that half-hour you spent one-on-one with me, and may you forever rest in peace, you beautiful and gracious gentleman.

Curly Neal: Basketball's First Ambassador (3:38)
https://www.bitchute.com/video/j3DWpis06gGV
Remembering Fred Curly Neal (1:08)
https://www.bitchute.com/video/ZWO5VfF9Rne0
Harlem Globetrotters Legend Curly Neal Passes Away At 77
March 26, 2020
Neal was one of most dynamic dribblers and shooters in basketball history
Fred "Curly" Neal – the Harlem Globetrotters icon known worldwide for his trademark shaved head and charismatic smile – passed away this morning in his home outside of Houston at the age of 77.
Between 1963 and 1985 – before the internet and cable television really existed-it was Curly Neal and the Harlem Globetrotters who first introduced the sport of basketball to millions of people around the world for the first time. It was Curly's magical ball-handling, shooting, charismatic smile and iconic bald head in more than 6,000 games in 97 countries, that made them start to play and fall in love with the game. One of the truly magical dribblers and shooters in basketball history, Neal fittingly played for 22 seasons in the red, white and blue, wearing No. 22.
https://www.harlemglobetrotters.com/News/Remembering-Curly-Neal
Globetrotter Legend Fred "Curly" Neal 1942 – 2020
Fred "Curly" Neal – the Harlem Globetrotters icon known worldwide for his trademark shaved head and charismatic smile – passed away this morning in his home outside of Houston at the age of 77.
https://twitter.com/Globies/status/1243257941953830912/photo/1
Globetrotters Legend Fred 'Curly' Neal Dies At 77 (Text and Video)
"We have lost one of the most genuine human beings the world has ever known," Globetrotters general manager Jeff Munn said in a statement. "Curly's basketball skill was unrivaled by most, and his warm heart and huge smile brought joy to families worldwide. He always made time for his many fans and inspired millions."
https://www.espn.com/nba/story/_/id/28958864/globetrotters-legend-fred-curly-neal-dies-77
Frederick "Curly" Neal (May 19, 1942 – March 26, 2020)
Neal played for 22 seasons (from 1963 to 1985) with the Globetrotters, appearing in more than 6,000 games in 97 countries.
https://en.wikipedia.org/wiki/Curly_Neal

Subscribe To The MeetingsAndStories.com Newsletter
https://MeetingsAndStories.com/Subscribe
Support My Book Meeting and Stories
https://MeetingsAndStories.com/Donate
Meetings and Stories
The Wondrous Journey of My Life
by Mark R. Elsis
https://MeetingsAndStories.com